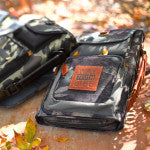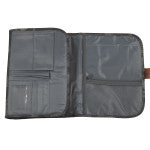 Organizer with Tri-fold in Real tree Camouflage Print Bible Cover
So functional and with a style all its own, our Tri-Fold Realtree Camo Bible Organizer is sure to excite! Perfect for class, Bible study group or the commute, this handy poly-canvas organizer provides uncommon storage features. 
On the front, you'll find a Velcro tabbed pouch to accommodate your phone, and another with a faux leather tabbed zipper, that is large enough for a wallet. A faux leather strap with Velcro closure pulls the organizer open to reveal another Velcro tabbed pouch, 2 pen compartments, 4 card slots - including one with an ID window, a slip pocket large enough to fit your iPad and many styles of notebooks and journals, a second slip pocket and a zipped mesh pocket. Another zip with a faux leather tabbed zipper, and you have a compartment to envelop your book or Bible and another couple of pens. A suitcase style carry handle and a "Way - Truth - Life" statement complete the look. 
When purchasing a Bible cover, actually measure your Bible. Your Bible measurements should be equal to or less than the measurements for each cover. 
Bible Cover Sizes: 
Medium: 6 5/8" x 9 5/8" x 1 3/4" (Spine) 
Large: 7" x 10 1/8" x 1 7/8" (Spine)
Separate Bible and Organizer Compartments
Faux Leather Trimmings
2 Exterior Pouches
2 Interior Slip Pockets
Interior Zipped Mesh Pocket
Interior Velcro Tabbed Pocket
4 ID / Card Slots
4 Pen Loops