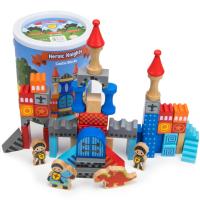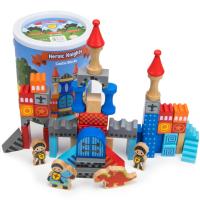 Heroic Knights Castle Blocks
€¦Enter a realm of great knights, towering castles, and fire-breathing dragons with these castle building blocks. Construct the tallest kingdom in the land, topple it over and then start again. With so many shapes, sizes, and patterns of blocks to tinker with, there are endless possibilities of castle creations!"
These wooden blocks are cut from solid wood and are finished with safe, water-based paint. They encourage early imaginative role-playing and storytelling as well as develops fine motor skills and dexterity.
Why You'll Love It:
Our castle blocks come in many unique shapes, sizes, and colors to make for more creative constructions and magical moments. Play pretend in your own fantasy world, with two valiant knights, a daring horseman, and a fairy-tale dragon. When you're done playing with these blocks, put them right back into your hardy storage drum, you can even take them on the go!