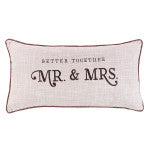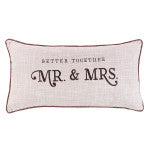 Better Together - Mr. & Mrs. Rectangular Pillow
Add a cozy touch to the newlyweds' home by giving them the Better Together Oblong Pillow. They will adore the message on the pillow. It will remind them that they are now one, and better together. Encourage them to put the pillow in a place where other guests will enjoy it, whether it's in the living room, sunroom, or mud room bench and cubby area.
The cream-colored Better Together Oblong Pillow is made of 100% polyester with polyester filling. "Better Together" and "Mr. & Mrs." is embroidered in the center of the oblong pillow. It features a contrasting brown welted edge.
Size: 22 3/4" x 12 1/2"
100% Polyester
Polyester Filling