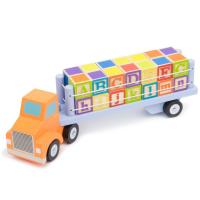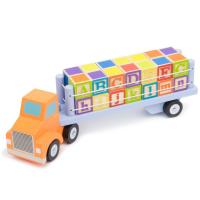 Alpha Block Cargo Truck
Pack up the alphabet blocks on the cargo truck and get a move on. This toy's a whole different kind of letter carrier, and it's got places to be! Spell and count, push and pull, load and unload, stack up and knock down, there's all sorts of ways to learn and play. Made from natural wood and finished with safe, water-based paint, this cargo truck supercharges fine motor skills, develops letter recognition, and encourages imaginative play.
Why You'll Love It:
The Alpha Block Cargo Truck is two toys in one! One part busy, industrious semi truck, its trailer can haul a whole bunch of toys, like farm animals, cars and vehicles, whatever job you need done. You can even un-hitch the trailer! Then, play with the included colorful wooden alphabet blocks! There's 28 educational blocks in all, featuring an upper-case letter on one side, and the corresponding lower-case letter on the other. They're perfect for practicing the ABCs, spelling simple words, and establishing early reading readiness. If you just want to play, flip the block over to one of the bright color swatches. Match them up, stack them up, and when you're all done, pack them up! The alphabet blocks store easily in the trailer for quick and easy clean-up.